Palovia - Laser Treatments in Your Own Home!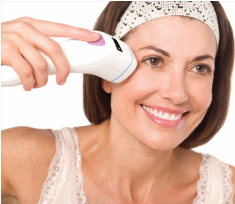 Prior to the availability of this laser there were only 2 options for anti-wrinkle treatments - creams and lotions or a medical procedure. For most people medical procedures (face lifts, laser skin resurfacing, chemical peels, injectable toxins or filters) were too expensive and inconvenient. On the other hand, the results of over the counter lotions and creams were inadequate.
We are pleased to announce that, as resellers of Palomar products, Affordable Enhancements can bring you a laser that you can use in your home for anti-wrinkle treatments. The Palovia laser has been FDA cleared for home use.
Here are a few things we want you to know about the Palovia Laser:
Virtually all users in several studies have agreed that this is fast and easy to use.
This laser costs less than 1/2 of a professional treatment.
It was one of 14 products to win the prestigious 2011 Allure Breakthrough Award
92% of the users of this product surveyed indicate they are satisfied and 78% would recommend it to friends!
---
Ask us about purchasing a Palovia Laser TODAY!